The M&M range has the following components:
A connector set  (Used for connecting any combination of rope necklaces and scarflets)
Rope necklaces ( Available in plain or patterned fabric, three lengths and in two thicknesses)
Scarflet
Pendant/Cluster
These are all available at my Etsy shop
You can combine the above in many ways to create your own unique neckwear. As with all Bagglz accessories, the fabric used is recycled pure silk, linen, cotton or viscose. Have fun and build your own special look!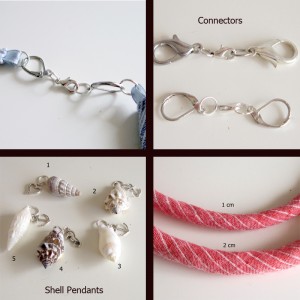 Necklaces can be worn singly or in any number and colour combination. They are available in 1cm and 1.5cm widths and in three lengths:
You can also add pendants or clusters to the 1cm  necklaces. The simplest pendant is a sea shell plus a charm. The more complex ones can be a combination of sea shells, beads, fabric and printed images.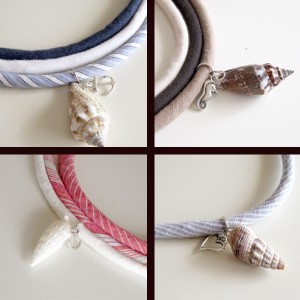 To start building your look you need one rope necklace and one connector. Then if you want to make a combination of rope necklaces order a second one in a toning colour and in a different length to the first one. Add a pendant or cluster to that for additional interest.
A scarflet is a triangle of edged fabric measuring approximately 50X50X100cms and can be worn either on its own as a necklace scarf or it can be combined with a necklace.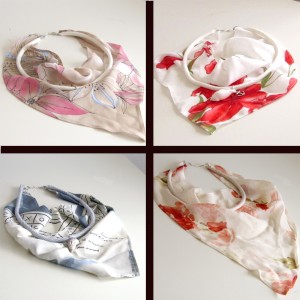 Plain Colours:
Black
White
Cream
Beige
Rust
Navy
Pale blue
Pink
Dusky Pink
Red
Brown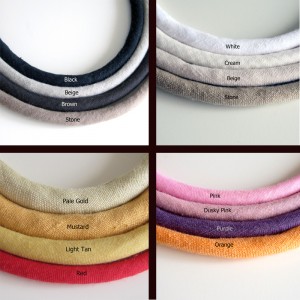 Patterns
Design 1
Design 2
Design 3
Stripe
Navy stripe
Red stripe
Black/white stripe
Candy stripe
Brown and tan stripe